Beneath The Kite – Malbec

Beneath The Kite was a winery of imagination, the product of evolving plot line in a novel exploring wine, love and life amongst the vineyards of Margaret River
…until the writer's winemaking husband read the book.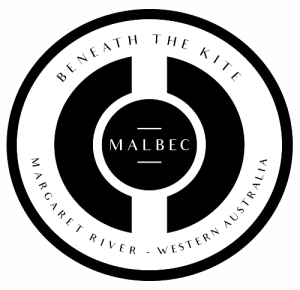 Winemakers appreciate the nuances different grape varietals offer. When harvesting batches of petit verdot, viognier, malbec, any varieties destined for a commercial blend, they craft them separately to enhance what makes them sing.
Most wine enthusiasts don't have access to these oak barrels tucked away in winery cellars, so purchasing varietal wines is a fabulous opportunity to explore.
Zinful (zinfandel) was Mark's first foray into small batch production of alternative varietals, producing seven vintages from 2004. A five year hiatus ensued until in 2016, inspired by the opportunity to realise a unique concept and his affinity for the variety, Mark sourced fruit from a well tended vineyard and gracefully conjured Beneath The Kite Malbec from the pages of Crush into reality.
"It's a bloody good Malbec, that's for sure. Plum, floral, aniseed and crushed leaf, chocolate, and some spice. Medium-bodied, has a savoury aspect, into coffee and pencils (appropriate partners for a novel?), dense fine-grained tannin, a rosy mouth-perfume, and a little dried herb in the finish, which is long, fresh and even. Delightful."
Reviewed by Gary Walsh ~ The Wine Front ~ Rated : 93 Points

To place an order for BENEATH THE KITE Malbec please contact us